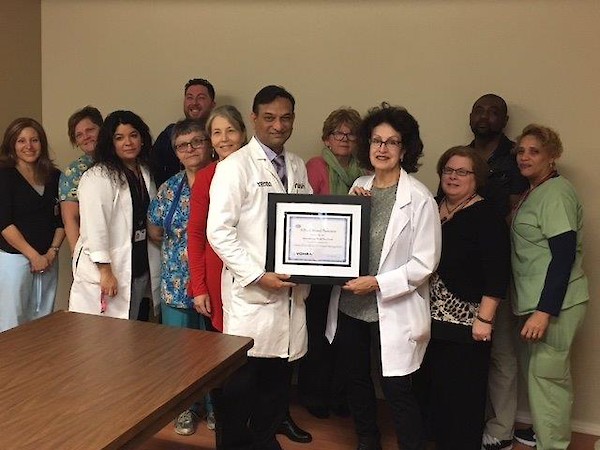 The following is from a January 2017 press release. The recognition was worth holding onto in order to post here.
FOR IMMEDIATE RELEASE:
MERIDEN – On Tuesday, January 3, 2017 Silver Springs Care Center at 33 Roy Street in Meriden received recognition as a "Center of Excellence for Wound Management."
Photo 1 shows Raheel Shafi, MD, CWSP, a Wound Care Specialist Physician who treats patients at Silver Springs on a weekly basis, presenting the award to Evelyn Colon, RN, PDC, Silver Spring's Wound Nurse. Photo 2 is the Silver Springs Care Center wound team.
Dr. Shafi commented during the presentation that, "Silver Springs has demonstrated a truly significant improvement in patient and wound care over the past year."
Brad Sherwood, Vohra Wound Physician's Regional Director of Business Development (954-729-1384) presented the award. He stated that only a handful of facilities in Connecticut have received this award.            
The qualifications to receive the recognition:
Designated, accountable Vohra Wound Certified Nurse(s) seven days per week
Verified Outcomes-focused, Physician Specialist-led Wound Care Program
Less than 1% Wound-related Hospitalization Rate
Regular Team Meetings with a Focus on Quality and Process Improvement (QAPI)
Silver Springs Care Center, formerly Meriden Care Center, specializes in wound care, behavioral and substance abuse treatment and veteran's healthcare services. It is an iCare managed facility with a 159 bed capacity. iCare operates ten skilled nursing and rehabilitation facilities in the greater Hartford area with Silver Springs being the furthest south.
###