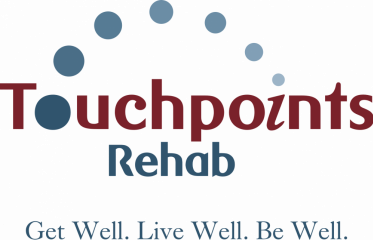 Welcome to the Touchpoints Rehabilitation network of health and rehabilitation centers in Greater Hartford, Connecticut. Our four world-class rehabilitation centers in Bloomfield, East Windsor, Farmington, and Manchester offer a full range of inpatient and outpatient programming including the specialty areas of Cardiac, Pulmonary, Neurologic and Orthopedic recovery.
Read about the Touchpoints Continuum of Care by clicking here….including Touchpoints Rehab, Touchpoints Therapy and Touchpoints at Home.
Everyone has unique care needs, but the primary objective is most often the same: a return to health, home and what's important in life.
Everyone has unique care needs, but the primary objective is most often the same: a return to health, home and what's important in life. At Touchpoints, we understand. We work collaboratively with our hospital and home care partners to provide seamless transitions of care. 
Our innovative, personalized approached is designed to accelerate the recovery process, so that you can Get Well, Live Well and Be Well, faster, better and with fewer challenges than any traditional rehabilitation program.
Find out why Touchpoints Rehab is the Place I Trust with Mom's Care.
For more information or to visit one of our centers, contact us today at 860-812-0788.

News & Updates
Discover the latest from our blog
"I have realized that I have been blessed to be here, the healing I needed, the therapy in both physical and emotional have provided the foundation I needed to regain my inner peace. My new strength will carry me into many brighter tomorrows. As I get ready to leave here on my actual 65th birthday, please know that every person I have made a connection with will never be forgotten."

The healthcare heroes at Touchpoints at Bloomfield were treated to snacks and meals as a sign of appreciation and recognition from two generous partner organizations this week. Saisystems, in conjunction with Subway, sponsored meals for all three shifts, which was over 120 boxed meals. Saisystems is a Hartford Healthcare Partner, as is Touchpoints at Bloomfield. This generous event was meant to highlight the hard work and dedication of frontline healthcare workers and all staff who cared for res…

Jessica DeRing, Administrator of iCare's 60 West care center in Rocky Hill, CT has been named and assumed the role of Connecticut Chapter President of the American College of Health Care Administrators (ACHCA) for the 2020-2022 term. According to its website, ACHCA was founded in 1962 and is a non-profit professional membership association that provides superior educational programming, networking, and career development opportunities for its members.

In early July 2020, the leadership team at Westside Care Center received the following testimony from the daughter who had both parents at Westside at the same time, in the same room. " from the receptionists at the front desk, dietary, housekeeping, nurses' aides to nurses were always polite, friendly and caring.  I was able to sleep at night knowing Mom and Dad were safe.  All of you helped me through the hardest days and months of my life, and I thank all of you for that. You all we…

Sarah Howroyd, Manchester native, licensed social worker, and honored change agent, was recently chosen to receive the 2020 GMCC Community Achievement Award. Each year the Community Achievement Award is given to a special individual as gratitude for all they do to help make Manchester a better place to live, work, and do business. This award, in its 25th year, is presented to an individual who exemplifies the true meaning of community; one who volunteers, who leads, who gives freely of themselve…

George Floyd was created in the image of God yet he was deprived of his unalienable rights, his life and his future. We condemn this senseless killing and pray that the Lord uses this tragedy and the others that have unfolded in recent weeks as a seminal event towards change.  iCare supports the fight against racism in all its forms. As a company that wholeheartedly embraces diversity and celebrates its communities of color, we reject injustice, inequality, discrimination, violence and hate.  …

Sarah and Stephanie Cota of Abby's Helping Hand, presented 100 gift bags each to Touchpoints at Chestnut and Fresh River Healthcare leadership. The gifts were for the care center staff to express gratitude and support for all they do to provide care for their residents, especially in these challenging times. According to their website, the mission of Abby's Helping Hand is to improve the quality of life for those afflicted with mitochondrial and other chronic diseases through support, educat…

Connecticut nursing home employees are 'family…where family can't be.' How do we know there will be a 'Better Day"? Because these amazing caregivers are laser-focused on compassionate care and recovery. They are making it happen now. There will be a Better Day.