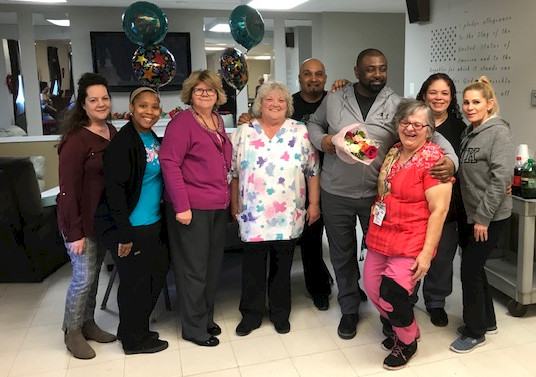 MERIDEN (February 4, 2020) – On January 29, 2020, Silver Springs Care Center held a retirement celebration for Rae Losnes, Licensed Practical Nurse, who retired from Silver Springs after 37 years of service. 
Rae worked as an LPN Charge Nurse on Second Floor East for many years. Upon news of her retirement residents and staff shared just how much they will miss her. Rae is third from the right in red.
Pictured with her are several other staff who have been here anywhere from 20 years to 48 years. From left to right are Lynn Webster (39 years), Tiesha Vereen-Duncan (20 years), Judy Lewkewich (43 years), Diane Lucier (48 years), Noel Orsini (25 years), Anson Gray (32 years), Rae Losnes (37 years), Ana Rivera (25 years) and Lucy Orsini (25 years).
Several staff members with great than 20 years of service were not present for the photo.