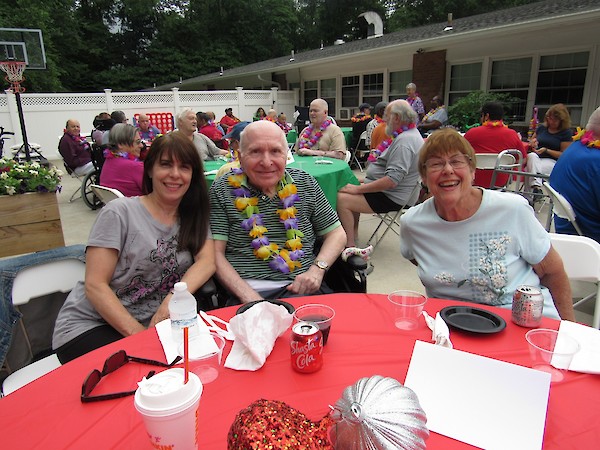 ROCKY HILL (August 29, 2019) – 60 West officially kicked off Summer with a Christmas in June Family Dinner on our patio! Family members and residents enjoyed a fabulous cookout including many BBQ favorites and Jim Scott's incredible potato salad! Santa paid a visit and everyone enjoyed the sunshine and live music.
60 West also continued support for Hands on Hartford by donating 50 Summer Weather bags with supplies to help homeless people in Hartford. Wanda Guzman, Program Manager-Community Engagement, from Hands on Hartford paid the care center a visit to accept the bags and meet some of the residents involved in organizing the donation.
60 West also celebrated Jamaican, Cuban, Italian, Lebanese and New Orleans Culture with Arm Chair Travel Luncheons! These small group luncheons, featuring elegant dinnerware and wait service, gave residents the chance to experience the food of another culture and learn a bit about the sights and music of the area.
The team also continued a tradition of planting and tending the center's patio gardens and sharing the harvest with the Dietary Department for all residents to enjoy. The excellent work of the life enrichment staff continues to deliver on 60 West's mission of compassionate and dignified care for all.