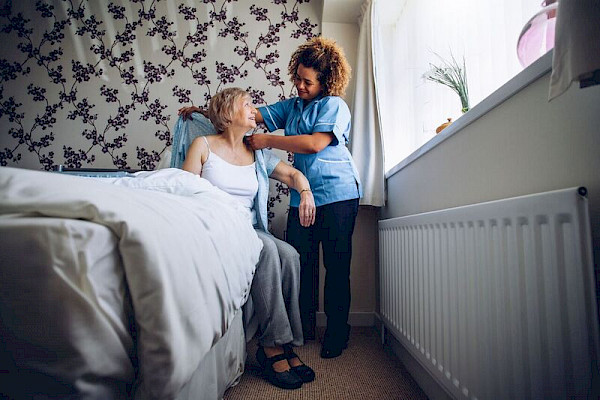 ROCKY HILL (November 19, 2020) – November is National Home Health Care Month and iCare Health Network is celebrating with recognition for all of its hard working home care nurses, therapists and the whole team at Touchpoints at Home. 
Please join us in honoring these compassionate, tireless workers who play an invaluable role for their clients as caregivers, companions, and friends, especially in the time of COVID. 
In one form or another home health care, by its nature, has been provided for centuries. Organized home health care as might know it today in the US, extends back to at least 1909.  According to recent stats, some 5.9 million home care visits were provided per year in the US by 11,000 home care agencies.   
According to the National Association for Home Care & Hospice (NAHC) website, during the month of November, the home care and hospice community honors the millions of nurses, home care aides, therapists, and social workers who make a remarkable difference for the patients and families they serve.
"These heroic caregivers play a central role in our health care system and in homes across the nation. To recognize their efforts, we call upon all Americans to commemorate the power of caring, both at the home and in their local communities, and ask them to join with the National Association for Home Care & Hospice (NAHC) by celebrating November as National Home Care Month."
At Touchpoints at Home our deepest commitment is to our patients and their caregivers.  We are devoted to providing a level of quality of care that encourages a safe and cost-effective delivery of home health services.   We believe in keeping our patients happy and safe while helping them to achieve their healthcare goals. Our  strength is our professional clinical team who takes pride in providing quality care that is patient centered. 
Touchpoints at Home has the benefit of affiliation with the iCare family of skilled nursing care centers, outpatient rehab resources and Touchpoints Therapy. Patients within our system have access to the full continuum of care and can often keep the same Therapist from outpatient rehab to inpatient skilled care and on to care within the home.