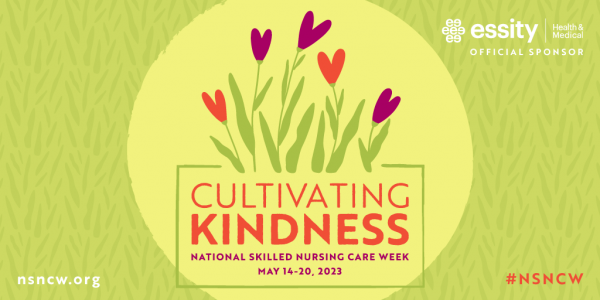 MANCHESTER (May 15, 2023) – The entire iCare team is excited to celebrate National Skilled Nursing Care Week (NSNCW), also known as Nursing Home Week. The week is an annual observance held in May, dedicated to honoring the contributions of nursing home employees and recognizing the strength of nursing home residents.
NSNCW 2023 embraces the theme "Cultivating Kindness," emphasizing the profound impact of compassion and empathy. It celebrates the unwavering dedication and compassion of nursing home employees, including nurses, caregivers, therapists, and administrators. The "Cultivating Kindness" theme encourages fostering a culture of empathy and understanding within the healthcare community. It recognizes the tireless efforts of these professionals in enhancing the quality of life for residents.
Cultivating Kindness also emphasizes the need to go beyond professional duties and connect with nursing home residents on a personal level. It promotes a culture of compassion, where residents are treated as individuals with unique stories and needs. By embracing kindness and empathy, nursing home employees can enhance residents' overall well-being.
NSNCW 2023 facilitates community engagement and education. It raises awareness about the importance of nursing homes and the crucial role they play in caring for the aging population. Through various activities and events, communities can show appreciation for nursing home employees and residents. It also serves as an avenue for advocating improvements in healthcare policies and resources.
Have a great Nursing Home Week and check back to our blog frequently for pictures from this week's events all around the iCare Health Network.