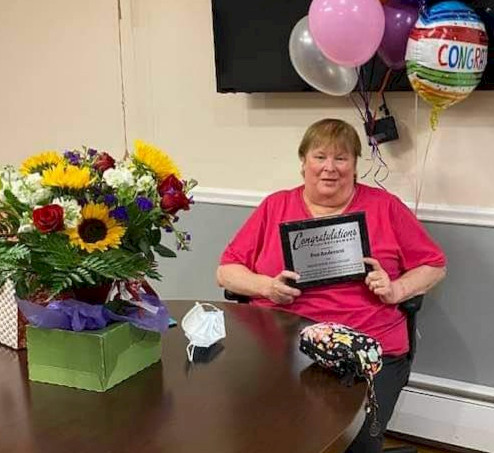 EAST WINDSOR (July 27, 2021) – On July 22, 2021 the team at Fresh River Healthcare celebrated the retirement of Susan Anderson after 40 years of dedicated service to residents.
Sue has worked in the capacity as an RN Supervisor since September 1980; over 40 years of supervising in the care center! In her role she has worked with all types of residents from all over the State. She has cared of clinically and behaviorally complex residents and assisted in the opening of the Memory Care Center unit for residents with Alzheimers and other cognitive and memory disorders. 
According to her coworkers and peers, Sue's leadership for in caring for this unique resident population went far beyond her job description and she will be sadly missed.  They shared that, "Sue was honest, compassionate, and exhibited unending patience. Her management skills include the ability to prioritize and serve as a role model to all of her staff. She has lead our team through many changes within the center and through it all she has made many lifelong friends with so many employees."
On behalf of Fresh River and iCare Health Network, we wish her much happiness in her retirement and future endeavors!