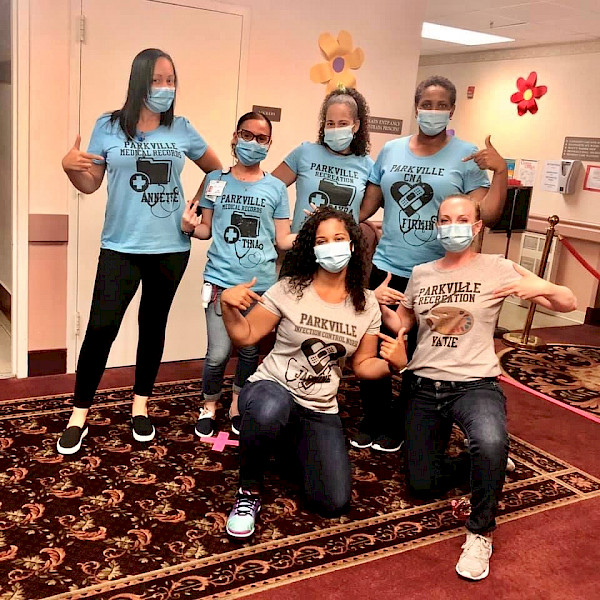 MANCHESTER (July 15, 2021) – July 11-17 is National Therapeutic Recreation Week and although it is organized through the National Recreation and Park Association, iCare celebrates its Recreation team and all of the amazing work they have done in the last year and beyond. Each care center's Therapeutic Recreation Department creates daily life enrichment for nursing home residents and are tasked with keeping it lively, engaging, fun, appropriate to the skills of the individual and providing variety.
As you can imagine this is and was uniquely difficult during COVID, while wearing masks and practicing distancing, and for a long time, without visitors, guest performers, outside services and even while residents were in quarantine. Thankfully the environment continues a return to normalcy and residents can once again engage with the recreational activities they enjoy with only modest modification. Activities that are integral to a residents care and treatment.
Therapeutic Recreation is a systematic process that utilizes recreation and other activity-based interventions to address the assessed needs of individuals with illnesses and/or disabling conditions, as a means to psychological and physical health, recovery and well-being. Services are designed to restore, remediate and rehabilitate a person's level of functioning and independence in life activities, especially in conjunction with nursing and therapy services.
Therapeutic Recreation involves assessment of an individual's needs and functioning, planning of interventions, implementation of services, evaluation of interventions and progress, and documentation. It can include a very wide variety of activities, from standards like Bingo, puzzles and music to large scale, culturally appropriate parties and festivals. All are meant to reduce stress, anxiety and depression, build confidence, engage the mind and body and many help in creating a sense of home in a short or long term stay.
Research indicates that recreational therapy provides positive health outcomes for individuals of all ages with physical disabilities, older adults, individuals with psychiatric disorders, people with developmental disabilities, brain injuries and others.
There are an array of unsung heroes working in skilled nursing and long term care. Among them are all of the therapeutic recreation, activities and life enrichment professionals providing daily joy and engagement. Thank you for all that you do!