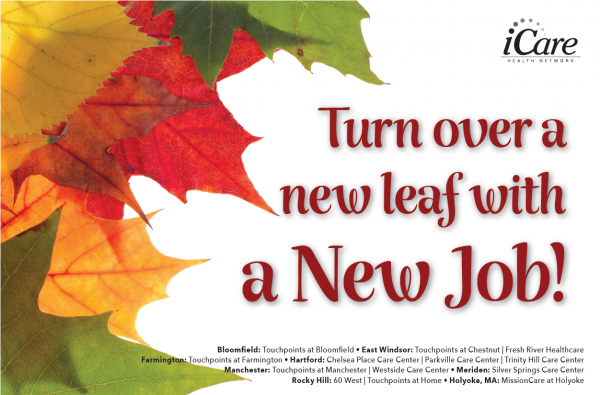 FARMINGTON (September 29, 2021) – iCare Health Network will be holding a CNA Job Fair and Hiring Event on October 6, 2021. 
iCare Health Network is recruiting for full-time, part-time and per diem positions! Locations include all iCare Health Network care centers across greater Hartford and western Massachusetts and iCare's home health agency, Touchpoints at Home. See all open positions at WWW.ICARE.CAREERS. 
---
You Are Invited to Attend!
What:

       iCare Health Network - CNA Job Fair and Hiring Event

When:

      October 6, 2021

      10:00a – 3:00p

Where:

       Touchpoints at Farmington

       20 Scott Swamp Road, Farmington ,CT 06032

Why:

 Interview for open CNA positions across the network. iCare is also seeking to hire for RN and LPN positions as well as non-nursing positions such as housekeeping, dietary and recreation. If you are interested in any open iCare position, this Job Fair is for you!
 
 
---
Important Details
Highly Competitive Pay Scales - Among the Highest Pay Ranges in the State

Full Time, Part Time & Per Diem Positions Available

Tuition Reimbursement, Comprehensive Health Insurance and Employer Sponsored Pension Plan

Bring a friend - if we hire them you qualify for up to $1,000 referral bonus!

Paid holidays now including Juneteenth
Please bring your resume and two forms of ID and come prepared to be interviewed. Job offers may be made on the spot for certain positions. Completed application can be used if you do not have a resume. 
For further questions and inquires related to the Job Fair or open positions within iCare Health Network call (860) 570-2140 or via email to via email to moc.nheraci@sreerac. See all open positions at WWW.ICARE.CAREERS. 
---
iCare Health Network (IHN) provides management, operating and consulting services to skilled nursing facilities and other healthcare providers. Through its managed care centers, IHN offers a range of services including medical, short-term rehabilitation, long-term care, behavioral health, substance use management, and memory care & support services. IHN manages 11 sites in Connecticut including four Touchpoints Rehab centers, seven Greater Hartford Memory Care Centers, 60 West and a specialized skilled nursing site in western Massachusetts known as MissionCare at Holyoke. IHN also offers home health via Touchpoints at Home, LTC Integrity audit tools, outpatient and integrated therapy and rehabilitation through Touchpoints Therapy and specializes in healthcare real estate transactions and skilled nursing turnarounds.