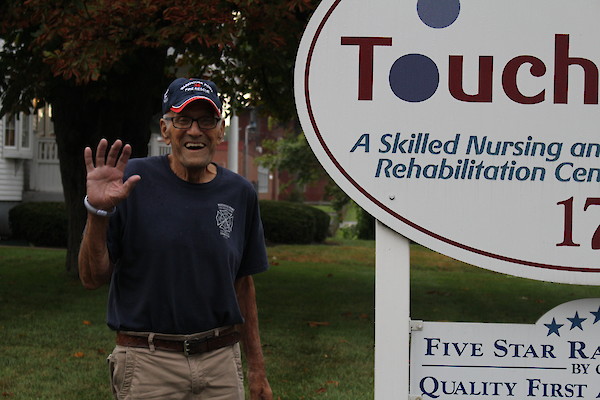 EAST WINDSOR (October 8, 2018) – "I have had a wonderful life", and thus begins the story of Tony Dimastrantonio.
by Heather Bale, Community Liaison, Touchpoints at Chestnut. As featured in the Windsor Locks Journal. 
We, at Touchpoints at Chestnut, are enjoying the privilege of his presence, and as we provide care for him, he is bringing joy to all of us. While he has been with us, Tony has been continually visited by the members of the Warehouse Point Fire District and members of the Junior Firefighters as well as his caregiver Casey Starvish, herself an ex-firefighter and member of a firefighting family—-his story and his life are the reasons why.
An orphan who ran away at 15 from an untenable situation in Boston, Tony arrived in Connecticut and was living in a tobacco shed. Mrs. Donahie heard about him and took him in to her home and her life. She had eight children and at this time the last two were at home; Tony had found a family. In later years, he took care of her in his home and the circle of kindness and affection was complete.
Tony worked in the tobacco fields for two years and then entered the world of heavy construction, working on bridges, roads, hi-rises and runways, for 47 years. With not a day in school, his years in Local 230 led him to the roles of steward and foreman.
In 1960 he joined the Fire Department and in 1969 he took the responsibility of the Junior Firefighter. He would pick the kids up from school and take them to respond to calls. The Fire Department is his family. As conversations take place with these "family" members, the constant thread of thought is that Tony was mentor and friend to all he led in the Junior program and to all he served with. He thought of them as his kids and to them he was a special "parent", there to guide them so they would not lose their way.
In these years, he has been Drill Instructor, Lieutenant, Captain, Fire Commissioner and President of the Fire Department for 10 years. The men with whom he served include so many who began under his tutelage in the Junior Program; Steve Niemitz, Commissioner and President of Warehouse Point, Tommy Clynch, who was Chief  and is now responsible for the Ambulance Service, Tommy Balf and his son, Michael, both Chiefs, Jimmy Barton, who is now Chief, and Donnie Wagner. 75% of the Juniors he taught became officers in the department.
Bob Kelley was kind enough to call me from his home in North Carolina to share his appreciation and memories. Bob's career took him to the Groton Sub Base where he served as Assistant Chief. While I was sharing these stories with Ann Marie Claffey and Lori  Lapointe of Windsor Locks Senior Center, in came Kevin Clynch and his face lit up as he talked of the legacy of Tony D. His portrait is on the side of the rescue truck at the station, but he says it is not him!                 
One day, when he was in his early thirties a waitress at a local restaurant told him of a woman he should meet. When he and his Dorothy said hello the attraction was instantaneous; it was love at first site and although she has been gone for 14 years, his love remains alive and powerful.
Tony doesn't wish to speak of the tragedies he witnessed but he does relish a story with a happy ending. During a house fire he entered without gear to search for a little girl-all to no avail. But when he went next door, he found her safely there. The relief is still visible when the story is told. Why did you become a firefighter Tony? His response- you never know when a fire will come and you join to help people.
And today, Tony is still there. When the calls come in, he makes coffee for the boys, backs up the trucks for them and makes sure the lights are left on.