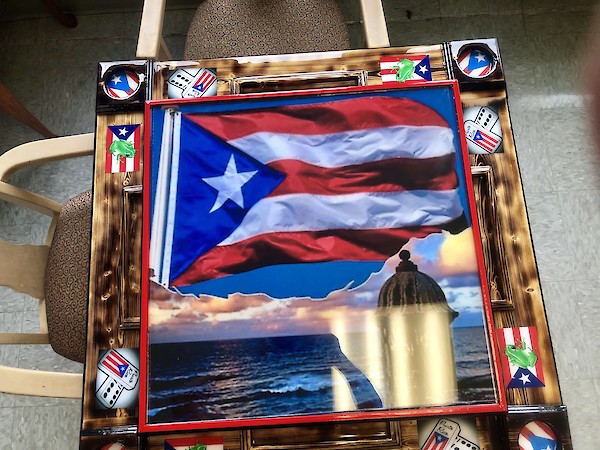 HARTFORD (April 25, 2019) – On April 26th the recreation team at Parkville Care Center, led by Katie Jeans, took possession of a custom built Domino table, emblazoned with artwork celebrating Puerto Rican heritage. Custom built by Julio Rivera for the residents of Parkville Care Center to put to immediate use.
Pictured on the center of the table is "Castillo San Felipe del Morro," a 16th-century citadel located in San Juan, Puerto Rico, alongside the Puerto Rican flag.The frog, called "The Coqui" is a very popular creature throughout the island and enlivens the evenings with its timid ko-kee nioses from which it get its name. The coquí has been a cultural symbol of Puerto Rican history for centuries.
Julio's wife Theresa worked at Parkville Care Center, formerly Park Place, for seven years. The care center is very important to her and she still comes by to visit. There are several spaces at Parkville Care Center that are ideal for group gatherings and games and the hope is that demand for the use of this table will create the need for a second or third table from Julio.