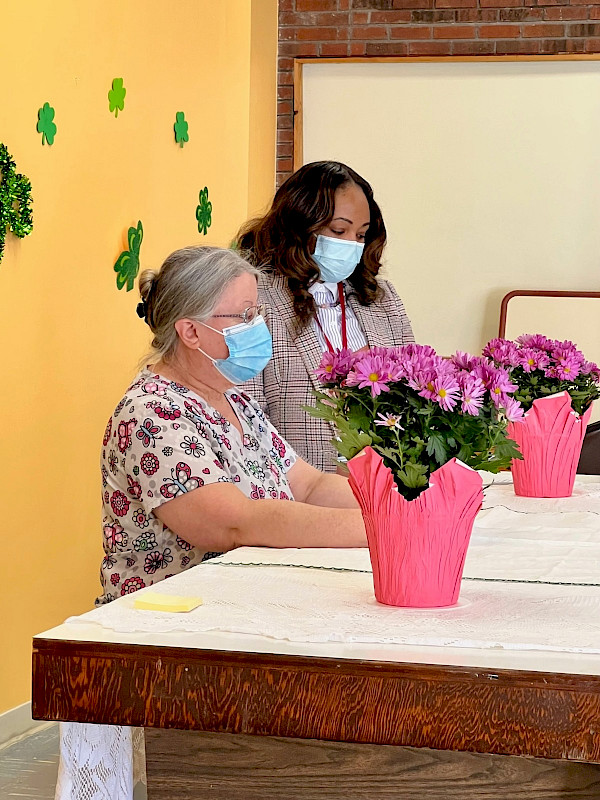 HARTFORD (March 4, 2022) – Along with representatives from Hartford Fire Department and Aetna Ambulance Service, the staff of Parkville Care Center in Hartford held a remembrance ceremony for the lives lost during the Greenwood Nursing Home Fire in 2003.
Parkville Care Center was formerly known as Park Place and prior to that, at the time of the deadly fire, was named Greenwood Health Center. Although the care center was not part of iCare until 2019, staff, residents and community members feel its impact or were even a part of the Greenwood community that day. 
Ten lives were lost to the fire and 21 were injured. Those that lost their lives that day were remembered today with the tolling of a bell. They include Hermangildo "Gildo" Pereira, Daniel Henriquez, Lois Morin, Justo Santiago, Gerarda Muriel, Shirley Andrusko Bergeron, John Shack, Angel Diaz, Walter Cox and Joanne Napoli.
The fire impacted and shaped changes to national nursing home standards. On behalf of iCare Health Network, we remember those lives lost, we think about their families as well as the staff past and present and thank the brave members of Hartford Fire Department, Aetna Ambulance Service and all those members of public safety that responded that night.