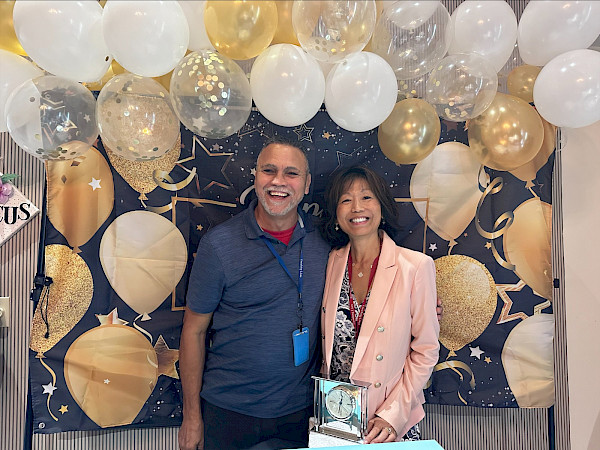 HARTFORD (September 29, 2023) – On September 26, 2023, the team at Trinity Hill Care Center celebrated and recognized Sergio Perez for his nearly 35 years of service to the residents of Trinity Hill stretching back into the days where it was known as Hillside Manor.  Sergio joined the team on 1989 and will be missed and remembered as a character and a hard worker. 
Trinity Hill Administrator Yong Crandall expressed her appreciation for all of the years of hard work and dedication and presented him with an engraved plaque and clock. Yong shared that,
"Sergio is always very friendly with everybody he comes in contact with and loved by many people. He is a hard worker and very rarely called out. When we needed extra hands he would be first one roll up his sleeves to help out.  It was a sad moment for those he staff and residents he left but it was exciting moment for Sergio to begin a new journey."
Employee longevity is a great testament to a quality workplace and a commitment to the teamwork needed to serve every day. We at iCare thank Sergio for his decades of dedication to the residents we serve.  We wish him nothing but the best and hope that he enjoys a well-deserved life in retirement, whatever adventure it may entail.