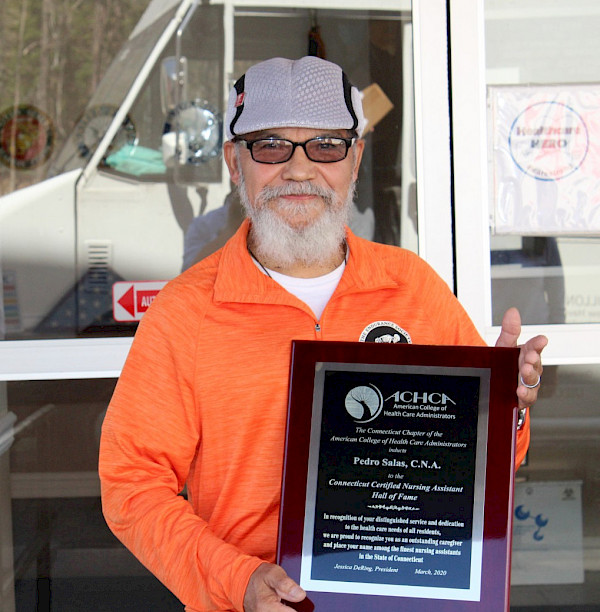 MERIDEN (April 15, 2021) – On Wednesday, April 14, 2021, Pedro Salas was inducted into the American College of Health Care Administrator's "CNA Hall of Fame" for 2020, a ceremony that had been delayed nearly a year due to the ongoing COVID-19 pandemic.
Salas, a Meriden resident, had been a Certified Nurse's Assistant at Silver Springs Care Center for over 46 years after serving his country in the United States Army. Coincidently, Pedro was also celebrating both his retirement from Silver Springs after all those years of service, and his 46th wedding anniversary. 
Pedro and all of the 2020 Hall of Fame winners can be found here…
Newspaper clipping from circa 1990 on Pedro Salas…
Employee longevity is a great testament to a quality workplace and a commitment to the teamwork needed to serve every day. In his nomination of Pedro, Silver Springs Care Center Administrator Ray Hackling wrote:
Pedro Salas started working at Silver Springs Care Center on August 5, 1974, over 45 years at the same facility.  Silver Springs Care Center, originally known as Royal Crest, has gone through several names and ownerships over the years but Pedro has always remained. Silver Springs Care Center has now been part of the iCare family for over 15 years.

Back in 1974 it was rare for a male to work in healthcare, especially as a CNA, but Pedro is a rare individual. I have had the privilege to work with Pedro for almost 5 years now. Pedro is the most kind, caring, conscientious individual I have ever encountered in my 38 years as an administrator. 

I have spoken to many of the employees here who have worked with Pedro for many more years than I have and they all agree, he is absolutely the best.  Residents and staff love Pedro, he always has a smile and a positive attitude no matter what is going on that day. Pedro has also trained many CNA's thoughout the years, in fact he trained our current ADNS as a CNA over twenty years ago .

Pedro always maintains the highest standards for delivery of quality care and improves the residents quality of life every day that he is here. I reviewed Pedro's file and there is not a single Corrective Action for Attendance or Tardiness and on top of that there are no Corrective Actions for job performance.

Simply incredible – but knowing the man as I do that doesn't surprise me.

There is not much else I can say about Pedro Salas except PLEASE give him your utmost consideration for induction into the Connecticut Certified Nursing Assistant Hall of Fame. We all know he deserves it!