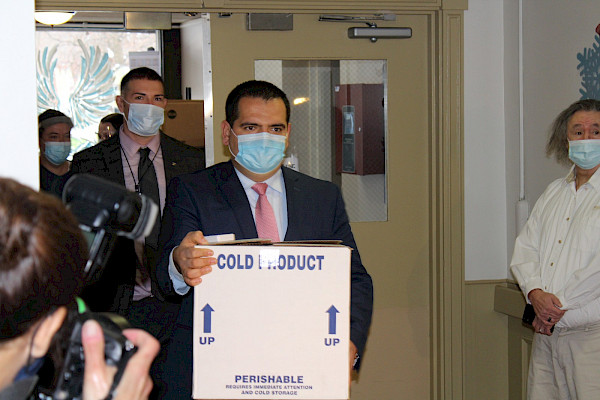 HARTFORD (December 18, 2020) – The first round of coronavirus vaccine for skilled nursing residents and staff arrived at iCare today, administered to residents and staff at Trinity Hill Care Center on Hillside Avenue in Hartford. 
The Trinity Hill team reported that around 100 or more residents were schedule to receive the vaccine which was manufactured by Pfizer-Biontech and administered by Walgreens through a federal partnership. 
By all accounts and given the early status of the clinic, the occasion was significant in the battle against COVID in Connecticut and historic in the course of the pandemic. A camera crew from CBS Evening News with Norah O'Donnell was on site to produce a segment about the vaccine's arrival which will air tonight, December 18th at 630pm.
iCare Health Network has a series of clinics scheduled with Walgreens over the next few days in its 11 Connecticut care centers. More information on the vaccine, the program and questions and answers are available by clicking here. 
** Photos, video and accounts of residents were used with express, written permission. Visitors, administrators and media followed strict COVID testing and PPE guidelines at all times while in the care center.