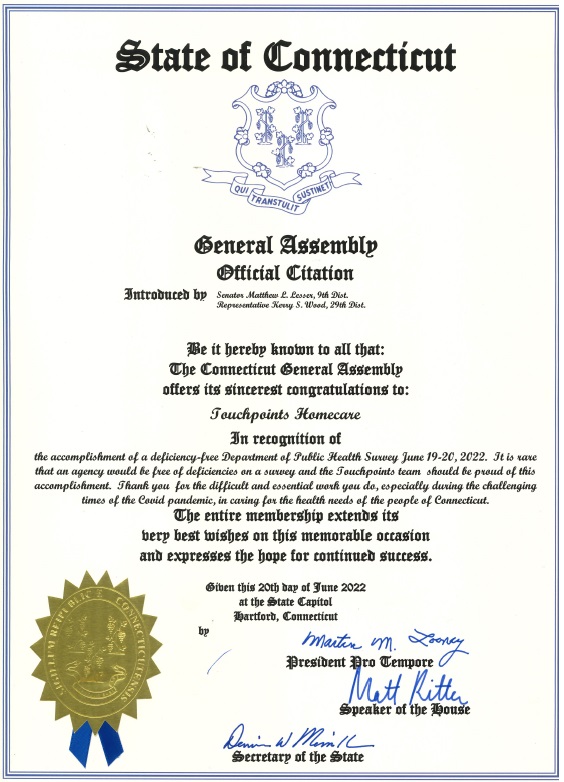 ROCKY HILL (June 29, 2022) – On June 20, 2022 Touchpoints at Home, the home health division of iCare Health Network, received an Official Citation from the General Assembly as congratulations for a deficiency free Department of Public Health Survey. 
The citation reads in part, "It is rare that an agency would be free of deficiencies on a survey and the Touchpoints team should be proud of this accomplishment. Thank you for the difficult and essential work you do, especially during the challenging times of the COVID pandemic, in caring for the health needs of the people of Connecticut."
A deficiency free survey is just that; a thorough, rigorous regulatory survey conducted by a team from the Connecticut Department of Public Health found zero deficiencies in care, services and documentation. The routine survey is conducted to assess compliance with federal and state standards of care, quality of care and safety measures. Surveys are unannounced and conducted by a team of healthcare professionals. A vast array of potential quality issues is covered, including a detailed review of records. A deficiency-free survey reflects substantial compliance with a multitude of regulations enacted to ensure the highest level of service and care.
At Touchpoints at Home, we provide Skilled Nursing, Physical Therapy, Occupational Therapy, Speech Therapy, Social Worker and Home Health Aide services. We cover a large part of the State from Somers to Meriden across to Bristol and Glastonbury. We are proud of the quality of care we provide and are excited to continue to grow. Our staff is dedicated to our patients and their families and we are so humbled to be invited into their homes and assist them on their journey to wellness.