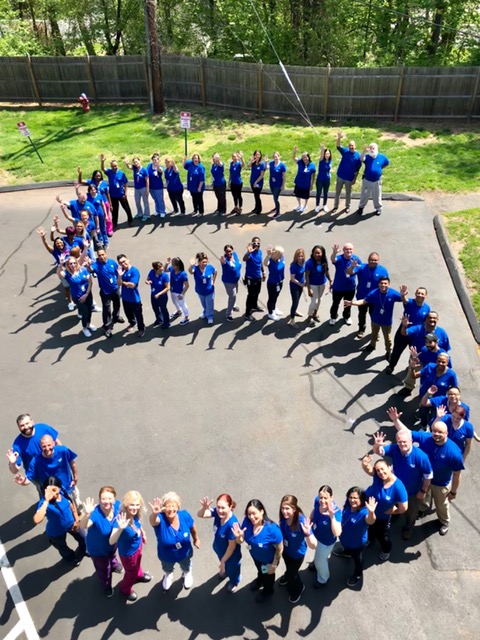 ROCKY HILL (May 23, 2018) – As part of National Skilled Nursing Care Week, 60 West staff celebrated its fifth anniversary since inception and its Five Star CMS Rating with a BBQ and "champagne" toast. 60 West is fortunate to have a series of staff members that have been there since the beginning and continue to proudly serve the residents and community. They were each recognized and thanked by Administrator Jessica DeRing following her remarks, as detailed here:
I'd like to welcome everyone for coming today to celebrate 60 West's five year anniversary! To our residents, without you we'd not be here today. To those who have been with us from the beginning we remember our journey and celebrate our future. To those who have joined us of late we welcome you and look forward to our adventures ahead.

I'd like to first recognize Chris Wright for providing the team that worked tirelessly to create this program over 5 years ago. Mike Landi, Bob Burke, Kate Sloan, Michele Clemens and all of the iCare Team.

To Jenn Glick and the team from DHMAS that we've worked with from the beginning. Jenn, thanks for coming!  To Judy Dowd who not only supports us in her role at OPM but for her church group who, from our first Christmas has visited to Carol for our residents and staff every year.

To HSG our partner in excellence thank you for working with us through our evolution.

To the Dining Services staff who prepared the amazing food for todays festivities as well as day in and day out for our residents. We applaud you!

To you, the staff, I salute you. To say I'm lucky to have you all as a team is an understatement. I am in awe of what an amazing group of professionals we have here at 60 West. Thank you for your commitment, passion and hard work. I look forward to celebrating our success for many more years to come!

And onto our longevity awards, we finally are fortunate enough to recognize our employees with five years of service.