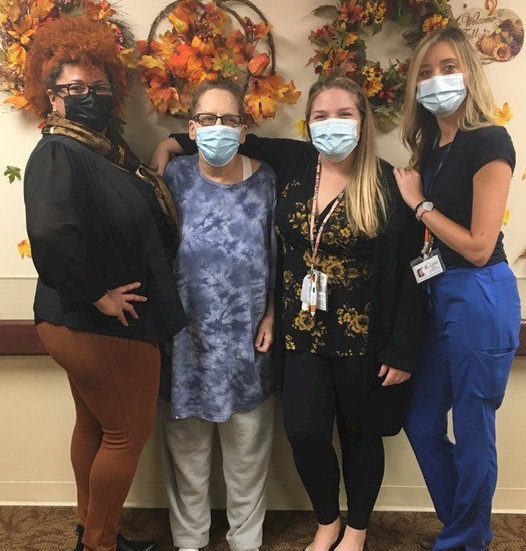 FARMINGTON (October 5, 2020) – Today the Touchpoints at Farmington team, including the Heart Failure Program's Transitional Care Nurse and the Touchpoints Therapy team, among others, received a glowing testimonial in the form of a Yelp Review.
Ms. Linda George took the time to write the heartfelt review and when it was posted the team asked for photos with her. 
It reads as follows:
I was a patient at Touchpoints at Farmington for the past three months. I came for short term rehabilitation after a major heart surgery. I have went through a lot of ups and down and it was hard to be able to comprehend everything at once.

When you leave the hospital you think you will go home but sometimes things get thrown your way that you can't control. I was very happy with the monitoring of the heart failure nurse, Anna and therapy department: Scott and Dave. I had a lot of positive experiences.

The staff at the facility was working with me very closely. I know I could not have done it by myself. I am happy to finally be returning home after a long stay however I greatly appreciate all the help and support provided to me by the staff and management at the facility. I will miss seeing the staff at the facility. I would like to return and visit the staff in the future.

- Linda George
**Photo, name, details and other information appear with express written permission. Appropriate COVID precautions were taken at all times.