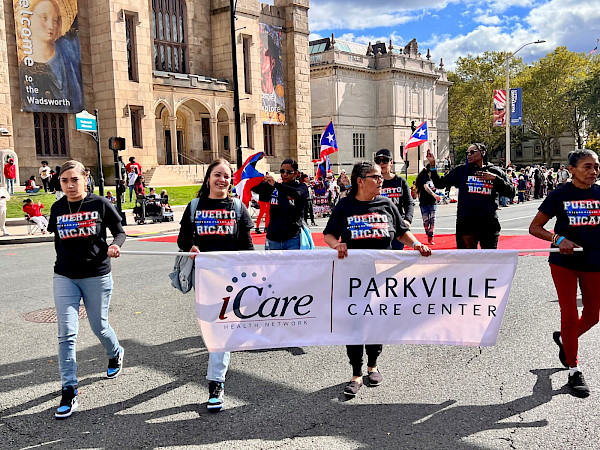 HARTFORD (October 9, 2023) – On October 8, 2023, staff and their families from iCare's Parkville Care Center and Trinity Hill Care Center represented iCare Health Network in celebrating the 2023 Greater Hartford Puerto Rican Day Parade and Festival del Coqui.
As they did in 2019 and again in 2022, the iCare team marched in the parade from Wawarme Avenue, ending in Bushnell Park, decked out in matching t-shirts and regalia and accompanied by decorated Jeeps. According to the Connecticut Institute for Community Development's Puerto Rican Parade Committee website, "The Hartford Puerto Rican Parade features nearly 3,000 marching participants and is the largest parade in the City of Hartford and the Hartford region." 
Hartford has become one of the largest Puerto Rican communities in the United States. Historical records show that Puerto Ricans first arrived in Connecticut in the 1840′s, but they did not migrate in large numbers until after WWII. Currently, Connecticut has the largest percentage of Puerto Ricans per state population according to the 2010 U.S. Census and the 6th largest overall Puerto Rican population in the United States.
The Connecticut Institute for Community Development-Puerto Rican Parade Committee (CICD) founded in 1958 dedicated to social engagement, community building, cultural enrichment, and most renowned for its annual Puerto Rican Day Parade. Cultivated decades ago through modest means, it has emerged as a parade of prominence in the state of Connecticut highlighting the sensational influences that Puerto Rican heritage has on society as a whole.