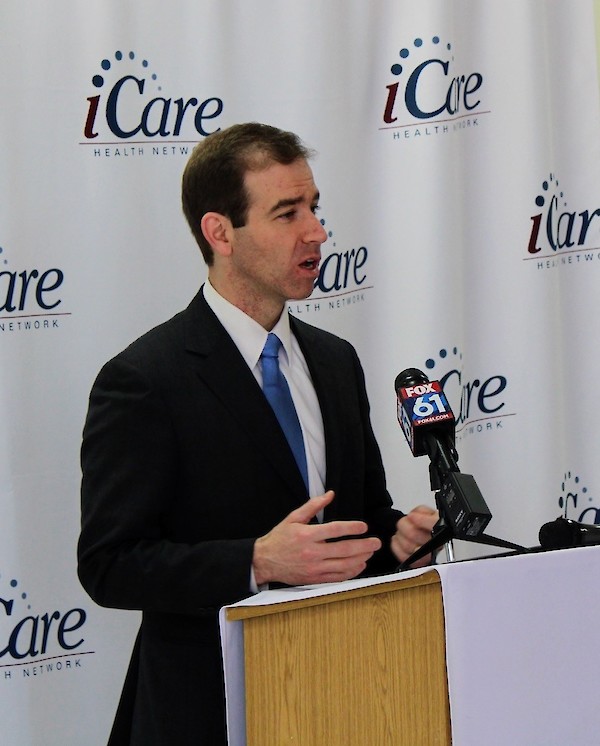 HARTFORD (March 27, 2019) – This morning Parkville Care Center welcomed several distinguished guests for a small Open House gathering. Hartford Mayor Luke Bronin and Representative Minnie Gonzalez spoke to a group of Parkville supporters, residents, staff and iCare team members inside Brookman Hall.  
Hartford Councilman James Sanchez and leadership from Aetna Ambulance Service toured the facility and spoke with residents and staff. 
As part of his speech Mayor Bronin spoke about the important of keeping Parkville open and operating for the residents of the care center as well as the employees and the community at large. Without Parkville there is no equivalent, available resource in the south end, in that neighborhood and in many ways in the greater Hartford area. 
Mayor Bronin spoke about keeping jobs in Hartford and also congratulated iCare CEO Chris Wright on iCare's 20 years in operation and thanked him and all of the many partners in State government, the community and among staff and residents who made Parkville's continued operation possible.
Representative Gonzalez shared stories of her constituents calling and coming by her office concerned with the care center's fate before news that Parkville had become part of the iCare Health Network. She called Parkville's continued operation and its new path forward "a victory".
On behalf of CEO Chris Wright, a big thank you from iCare Health Network to Mayor Luke Bronin, Representative Gonzalez, Councilman Sanchez, Aetna Ambulance, Community Renewal Team and all those that attended.