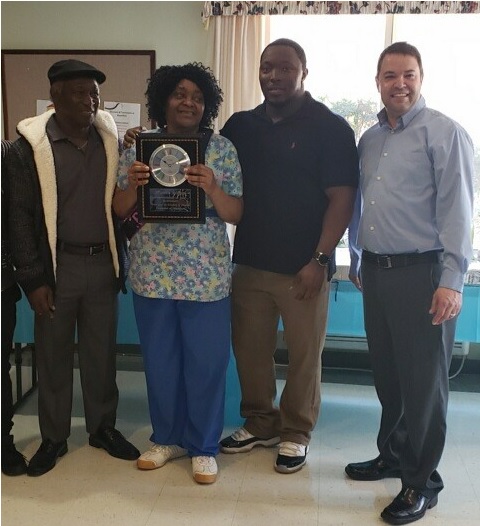 BLOOMFIELD (March 21, 2019) – Monica Whyne walked the halls of Touchpoints at Bloomfield for the past 34 years as a Certified Nurse's Aide, stretching back to the days of Wintonbury Care Center. This week she finally hung up her nursing shoes and retired. 
The staff surprised her with a retirement party on Thursday, March 14th and her family and many coworkers joined in on wishing her the best in her new journey in life.  A plaque was presented in honor of the years she dedicated to the residents at Touchpoints at Bloomfield and the impact she had on so many lives. 
Grateful coworkers shared stories of the friendships that had developed over the years working together.  Past employees showed up to share in the sendoff and show their appreciation.   
"We thank Monica for her decades of dedication to the residents we serve," said Administrator Jaime Faucher. "We want to express to Monica and her family that we wish you nothing but the best and for her to enjoy a well-deserved life in retirement."