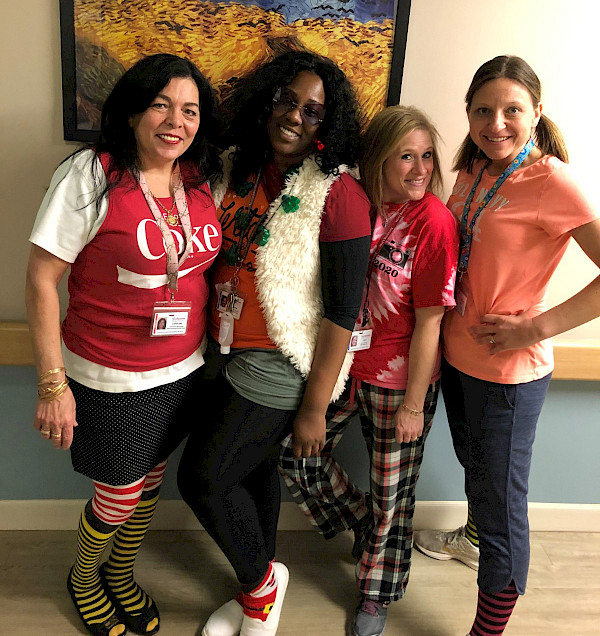 MANCHESTER (March 18, 2020) – All around the iCare Health Network, the staff and leadership are hard at work to keep up the morale and spirits of the residents, staff, partners and families. 
To bring calm, enjoyment, enrichment and distraction each day of the COVID-19 pendemic crisis takes a great deal of commitment and creativity. Here is a list of just some of the activities that have been going on at iCare Health Network care centers while under visitor restriction and infection control precautions:
Purchased more tablets for residents to FaceTime and Skype with family.
Performed outreach to every residents to guage their daily interest in reaching out to family or friends. 
Started an internal newsletter to share goings on and keep everyone updated as the daily situation changes. 
Shamrock Shakes, sharing shenanigans, root beer floats, baked potato bars, corned beef and cabbage and more for St. Patrick's Day. 
Opening up courtyards and outdoor spaces early in the season and more broadly in terms of space and hours for fresh air. 
The social work team ensuring awareness and access to a means to contact family.
Computer access expressly for sending emails.
In-room Bingo sessions broadcast over the care center intercom and PA system. 
Spirit Weeks and Theme Days like sports and wacky hat days. 
White boards for personalized messages to family. 
Individual planters for Spring. 
Hallway parades by staff. 
Room to room coffee service announced by music in the format of an ice cream truck announcing its arrival.
Staff calls to families to update on their loved one. 
Full staff meals weekly to express gratitude and encouragement. 
Need more? There's much more! 
*Patient/resident photos and any comments or descriptions appear with express permission.