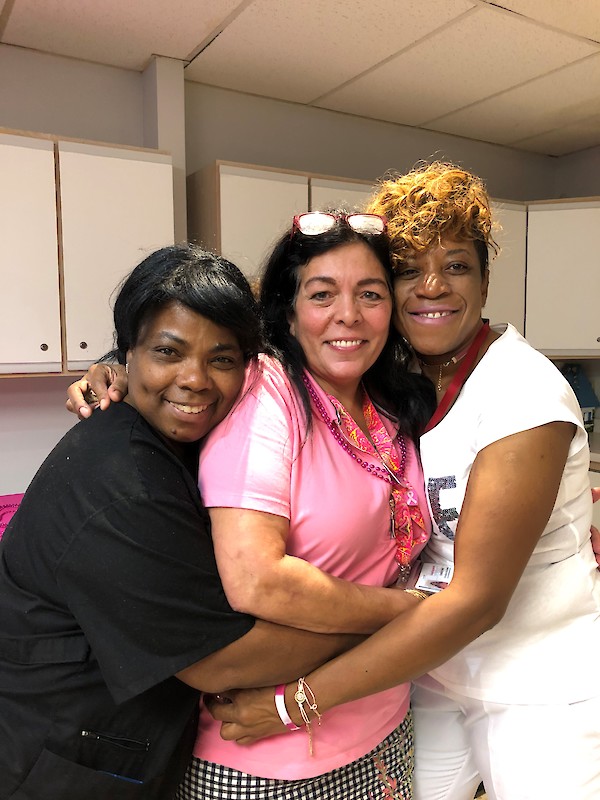 BLOOMFIELD (October 19, 2018) – As printed in the Windsor Locks Journal
On October 17, 2018, Touchpoints at Bloomfield held a "Pink Party" to honor breast cancer survivors and raise awareness and funds for breast cancer research. October is National Breast Cancer Awareness Month and is a chance to raise awareness about the importance of early detection of breast cancer. Touchpoints' Therapeutic Recreation Director Cindy Payne is herself a breast cancer survivor and organized the event.
Breast cancer is the second most common kind of cancer in women. About 1 in 8 women born today in the United States will get breast cancer at some point.  The good news is that most women can survive breast cancer if it's found and treated early. A mammogram – the screening test for breast cancer – can help find breast cancer early when it's easier to treat.
Every year, the residents and staff at Touchpoints at Bloomfield do a fund raiser to donate money to the Helen and Harry Gray Cancer Center in Hartford.  One year we raised enough money to buy  8 side tables for patients to put their belongings on during treatment times.  Our passion will continue to support a great cause that has touched so many lives.
Make a difference! Spread the word about mammograms and encourage communities, organizations, families, and individuals to get involved.