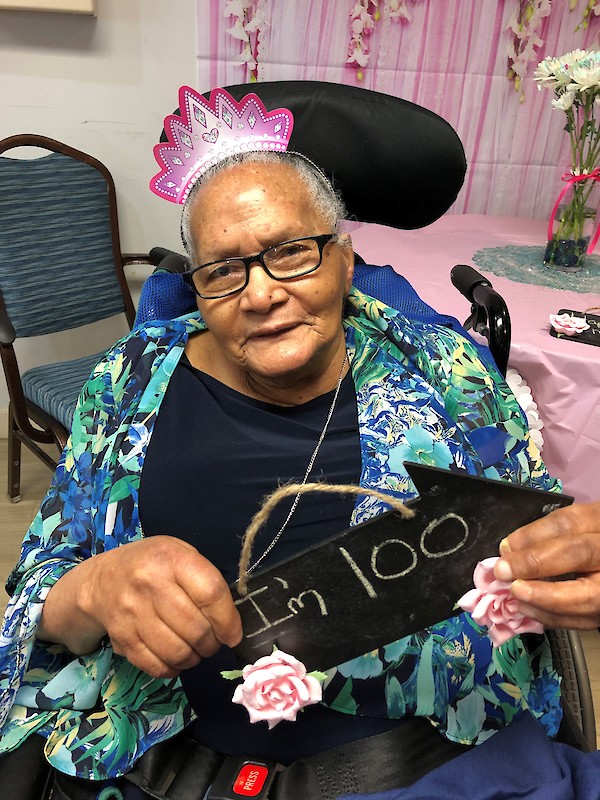 BLOOMFIELD (June 10, 2019) – By Cindy Payne, Director of Therapeutic Recreation, Touchpoints at Bloomfield.
The staff and residents came together to celebrate Evelyn Lindo's 100th Birthday on May 29, 2019. Three of Evelyn's daughters and her son-in-law attended the celebration as well.  She was surprised to see a room full of her peers as they all started to sing Happy Birthday to her. 
Ms. Lindo was born and raised in a little village in Jamaica.  She had five children whom she cherished.  She told the group that she never thought in a million years she would see her 100th birthday.  She explained that she did a lot of walking and took care of herself.  She even joked and stated, "From the top of my body,  I don't feel 100, but from the bottom down I do." 
Evelyn's daughter Sybil made a speech.  She wanted to thank Touchpoints for taking care of her mother so well.  "It was a very hard discussion to place my mother in a nursing home, but knowing she is being so well taken care of, it puts our minds at ease."
Congratulations and good health to Evelyn Lindo on this remarkable milestone.  
**Resident name and photo appear with express written permission.