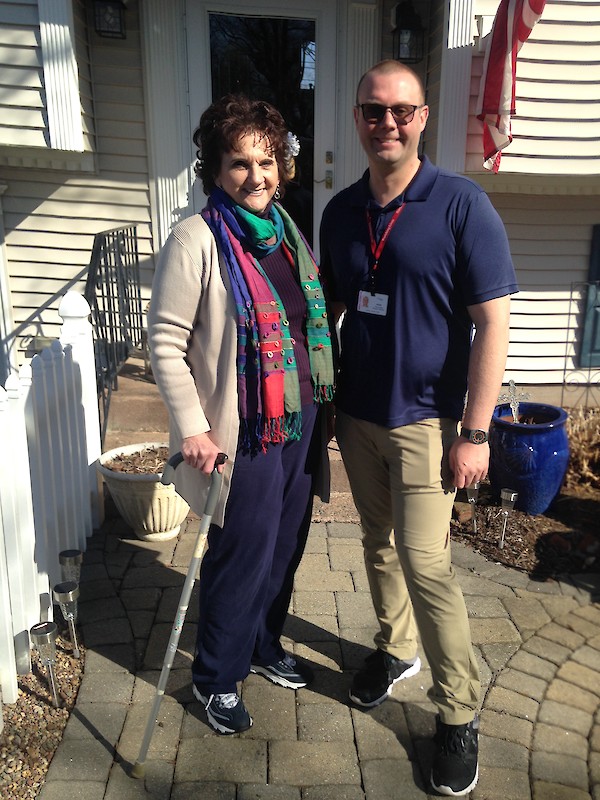 MANCHESTER (April 22, 2019) – In mid April 2019 Touchpoints at Manchester and Touchpoints at Home received a glowing patient testimonial, representing the Touchpoints continuum of care. Residents of iCare Health Network care centers can seamlessly transition to homecare, often keeping their physical therapists from outpatient rehab to inpatient rehabilitation within the care center and into the home setting.
A patient of the continuum, Susan Hovey, provided the following:
This is my second Total knee replacement in 7 months. I went straight home after my first one, it was a tough, lengthy recovery. When it was time to have my left knee replaced my wonderful surgeon, Dr. Carangelo decided maybe it would be best for me to start with a brief  short term rehab stay then transition into homecare. So I started my recovery at Touchpoints at Manchester. The staff was so kind and helpful. I was have a really tough time and the staff was so supportive.  The rehab team is terrific.

One of the best services Touchpoints offered was Kim, who is not only a Physical Therapist but also the Patient Liaison. She spent hours with me to help reduce my pain and anxiety. I was improving much faster than I did after my R knee replacement. I felt ready to come home in just a couple of days. When I learned that Kim could also be my PT at home , I immediately chose Touchpoints at Home .

The very next day, Kim and Piotr another PT were at my home. The appointments were always set up based on my preference and they were always on time. I have had homecare in the past, BUT the care and education I received from the Touchpoints team was nothing like I had ever experienced! AMAZING!

Both Physical therapists and my nurse spent the essential time to provide me with comprehensive information about my surgery, helped me better understand why I was feeling discomfort, and about what is expected. Once I understood the anatomy of my surgery and the healing process, I was able to comfortably manage my discomfort and gradually increase my activity around my home. I was able to set realistic goals. My stress became very low and my recovery soared!

The exceptional knowledge and skills of this Touchpoints rehab team is light years better that I could have ever expected. I am now ready for Outpatient Physical Therapy. I chose Touchpoints Rehab Outpatient services because  I will be able to continue my care with the same therapists! How great is that. With Touchpoints at Home and Touchpoints Rehab you get complete success. I highly recommend Touchpoints Rehab and Touchpoints at Home at every level on care.
*photograph, name and information provided with informed, written consent.