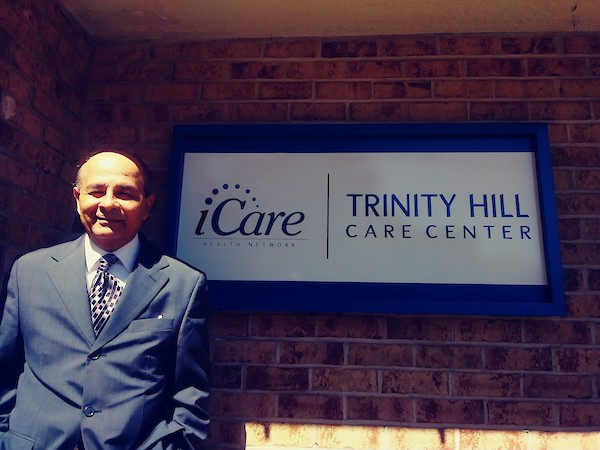 HARTFORD (July 10, 2018) – In a letter from the CT Association of Health Care Facilities (CAHCF) from June 29th, Reverend Guillermo Garcia was named Volunteer of the Year in the Adult category for his service to the residents and families of residents and Trinity Hill Care Center in Hartford, CT.
"The CAHCF Annual Meeting Committee created the award in an effort to recognize the dedicated, hard-working and impressive volunteers in our nursing homes. It was the overwhelming opinion of the Annual Meeting Committee that your volunteer efforts at Trinity Hill Care Center exemplify those characteristics" CAHCF Executive Vice President Matthew Barrett writes of Rev. Garcia.
Trinity Hill's population is 45% Spanish speaking and the ability to have pastoral involvement in Spanish is vital. Rev. Garcia performs religious services in both English and Spanish weekly. In addition he gives pastoral counseling to the Trinity Hill patient population and is also instrumental in having his congregation give residents gifts at Christmas.  His ability to perform services in both English and Spanish is of particular benefit to the facility.

Through his weekly pastoral counseling visits and his services, Rev. Garcia is able to provide a spiritual lift and hope at a critical time in the lives of the residents. Each year, Rev. Garcia rallies his congregation to supply residents with gifts at Christmas. It is an enormous undertaking to provide a special gift to over 140 residents. He and his congregation have been doing this for the last fifteen years.

One of Trinity Hill's clinical focuses is the treating of people with medical conditions brought on by substance use disorder. Part of the counseling related to this utilizes the twelve step model and teaches those with Substance Use Disorder to reach for their higher power. Rev. Garcia provides the assistance that many of program participants need to achieve their fullest potential in curbing their substance use disorder. His ability to do so in both Spanish and English affords us great flexibility.
Many times our residents come to Trinity Hill and its iRecovery Program at the lowest time of their lives. The spiritual connection that Rev. Garcia provides greatly enhances the quality of life of the resident population.
Rev. Garcia is noteworthy in his fifteen years of tireless dedication. His weekly visits occur without fail. He has lent spiritual guidance in counsel to hundreds of residents in his decade and a half of service to Trinity Hill.