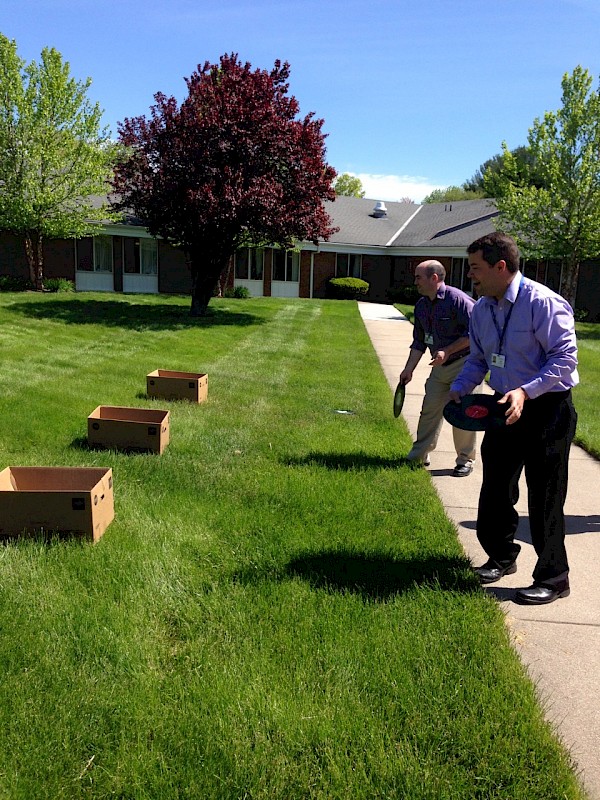 BLOOMFIELD – iCare Management and our family of facilities are excited to celebrate National Nursing Home Week, this week May 14-20th. 
In this post, the TAB team kicked off the week with a Mother's Day tea. Later, for the resident's enjoyment, the team including Administrator Jaime Faucher, held a competition to be the first in a series of challenges geared towards the 50's era such as using a yo-yo, drinking a cup of chocolate milkshake, then running outside to throw old vinyl 33 records into a box and finishing by doing the hula hoop for ten seconds. 
The residents enjoyed an old fashioned 50's sock hop with cupcakes that looked like ice cream milkshakes, french fries and popcorn were served along with 50's era entertainment and a lot of dancing. Many laughs were shared as well when the residents noticed that the center pieces on the tables were pictures of Department Heads old high school Graduation photo's blown up. Elvis and Marilyn stopped by for the party.  Later in the week is the All America Picnic and Photo Booth and a competition among staff to make the best BBQ sauce with the residents serving as the judges. 
The American Health Care Association, "AHCA" is the nations largest association of long term care and post-acute care providers.  The "AHCA" established National Nursing Home Week in 1967.  Every year, nursing homes across the country celebrate with residents, staff, volunteers, and surrounding communities to recognize the role of skilled nursing centers for our seniors and individuals with disabilities.  "NNHW" starts on Mother's Day every year and last the whole week.   This years theme is, "Spirit of America".