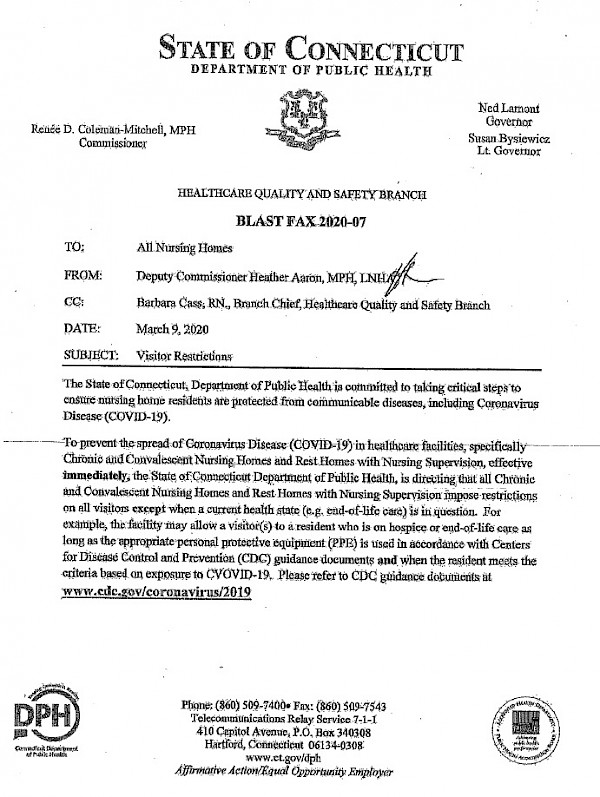 MANCHESTER (March 10, 2020) – The State of Connecticut Department of Public Health has issued Memo 2020-07 via fax to all Connecticut skilled nursing providers. The memo imposes an immediate visitor restriction to all skilled nursing facilities in the State of Connecticut, including all 11 iCare Health Network locations. We will be immediately complying with the only exception being for visitors to a resident on hospice or end of life situation.
MEDIA – Please refer to the iCare Health Network Press Room for instructions on communication and other resources: https://www.icarehn.com/about/press-room/ 
iCare Health Network has issued the following statement on behalf of its managed skilled nursing care centers:
Under the direction and coordination of the Department of Public Health, this nursing home and all nursing homes in Connecticut, have been advised that visitors to the facility should not visit family members until further notice out of an abundance of caution pertaining to COVID-19.  This care center does not have any cases of COVID-19, however, as part of the statewide plan to limit risk to our residents and employees, and in particular to a vulnerable population of individuals with chronic diseases and often times compromised immune systems, we are following this directive and coordinating it with other significant preparedness activities.