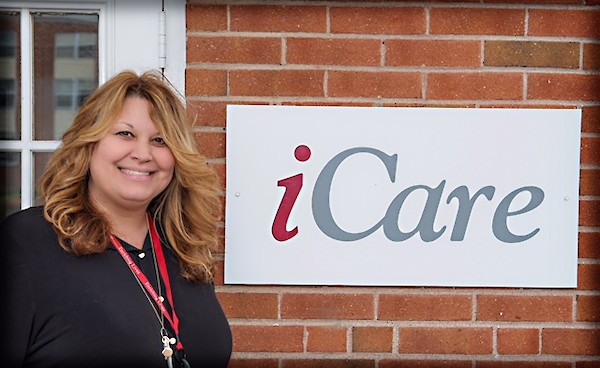 MANCHESTER (April 23, 2018) – On April 16, 2018 Melissa Dziob joined the iCare team in the new position of Director of Quality of Life and Specialty Programming.
This role will support many iCare initiatives and programs including consulting contracts, the iRecovery, behavioral health and Greater Hartford Memory Care programs. Melissa had this to share about her journey to iCare:
I have worked in the Long Term Care arena for twenty years both on the provider side and as a nurse consultant in a regulatory aspect. I started at Countryside Manor of Bristol in 1992 as a Nursing Assistant and worked in this role for three to four years while I was in nursing school. When I graduated from nursing school I took a Supervisor position at Countryside and rose through the ranks as Assistant Director of Nursing and then, in 2000, I became the Director of Nursing.

From that time I had a great love for Quality of Life initiatives with a goal of creating a more homelike atmosphere for our residents. In 2008, with the help of Administrator Charles Hallgren, the environmental service department and some nursing staff, we transitioned our Secure Dementia unit into a Neighborhood model. The unit had picket fences and mailboxes, hand painted with their favorite flower or tree at each resident room. One of the nursing assistants was an amazing artist that brought the vision to life.  

We received a grant from the department of Public Health to buy and construct raised garden beds as well as restaurant style steam tables to improve our resident's dining experience. We added daily bread for lunch and soups in a crock for dinner, all scratch made in the facility kitchen. We converted shower rooms into spas with soothing colors, décor, soft music and aroma therapy. We were an early adopter of Quality of Life initiatives and had great success. It was incredible for staff morale and resident satisfaction.

In 2014, I left Countryside to work as a Nurse Consultant for DPH. During my time there I learned so much about the regulatory side and broadened my knowledge on the regulations and sharpened my investigatory skills.

I hope to bring together all the pieces of my experience and put them to good use at iCare, improving and, as the mission says, enriching the lives of those we serve.