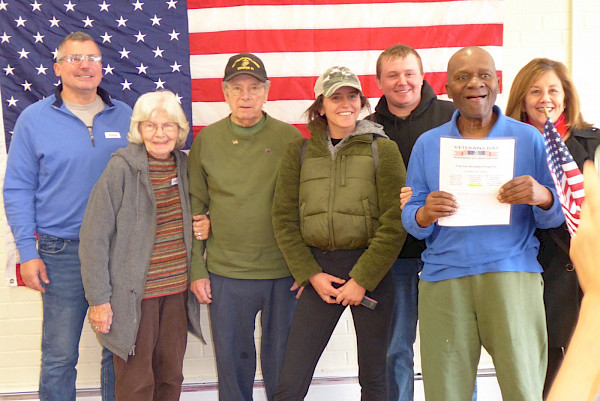 MANCHESTER (November 15, 2019) – Several Veteran's Day events were held around the iCare Health Network. In this post please find photos from those events. The iCare team is very proud and honored to be able to care for those that have served and sacrificed for our country. 
Fresh River Healthcare held a Veterans Breakfast November 11, 2019 honoring our veterans and their families. Administrator Jim Christofori was the Master of Ceremony. He acknowledged our Veterans with a Certificate of Appreciation. The CREC, Civic Leadership High School Color Guard of Enfield did a Presentation of the Colors. A special thanks to the students and their advisor Mike Dewey. Residents and their families enjoyed pancakes and cheese omelets crafted by our Director of Food & Nutrition Janine Lancaster. Mike Hamilton, Beth Biagette, Amy Houle, and Stephanie Brennan assisted with making this a special morning for all. 
Trinity Hill Care Center recognized both our staff and resident veteran's with a certificate of appreciation, custom made dog tags, and a pin representing varies branches of the military. We opened the ceremony with the pledge of allegiance, then sang the US National Anthem. We then read a Prayer of Peace and A Veteran's Prayer. Staff and residents were then given an opportunity to share their personal experiences, or reflect on the experiences of the veterans in the family. We closed out the ceremony with a moment of silence for those soldiers who made the ultimate sacrifice to protect our country and our freedoms. Finally we ended the ceremony with a playing of taps. On behalf of Trinity Hill, we want to thank all who have served our country; who remind us that freedom is not free!
Pictures from care centers around the Network are included.