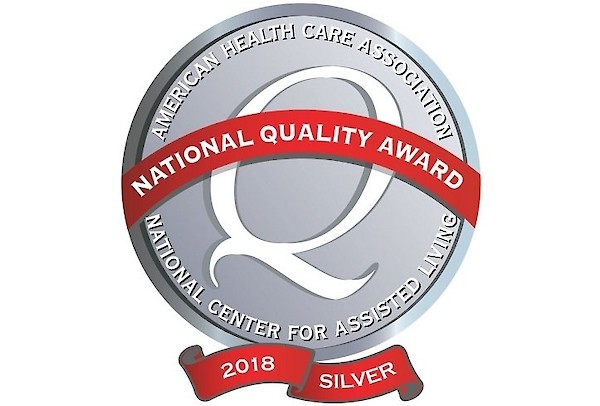 MERIDEN (January 15, 2019) – Silver Springs Care Center in Meriden has announced that they will be recognized with a 2018 Silver - Commitment to Quality Award by the American Health Care Association and National Center for Assisted Living (AHCA/NCAL). Silver Springs is the only skilled nursing care center in Connecticut to received the award in 2018. 
The notification comes after the 2018 AHCA/NCAL awards ceremony and as such Silver Springs will be honored at the 2019 Annual Convention and Expo in Orlando, FL. 
As the silver level implies, and according to the press release, the award is the second of three distinctions possible through the AHCA/NCAL National Quality Award Program, which honors long term and post-acute care providers that have demonstrated their commitment to improving the quality of care for seniors and persons with disabilities.
"I applaud this year's Silver award recipients on this incredible achievement in quality," said Mark Parkinson, President and CEO of AHCA/NCAL. "It is a privilege to recognize our member centers and communities that consistently make a positive impact on the lives of the patients and residents they serve."
The award comes to Silver Springs Care Center on the heels of recognition for staff and programs by two other national organizations. Silver Springs achieved Five Star status from the Center for Medicare and Medicaid Services and Regina Estrada, Charge Nurse for Silver's Memory Care Unit received Certified Dementia Practitioner of the Year for 2018 from the the National Council of Certified Dementia Practitioners. 
Implemented by AHCA/NCAL in 1996 and based on the core values and criteria of the nationally recognized Baldrige Performance Excellence Program, the Association's Quality Award program challenges member providers to achieve performance excellence through three progressive levels—Bronze, Silver and Gold. Members at the Silver award level develop and demonstrate effective approaches that help improve performance and quality outcomes.