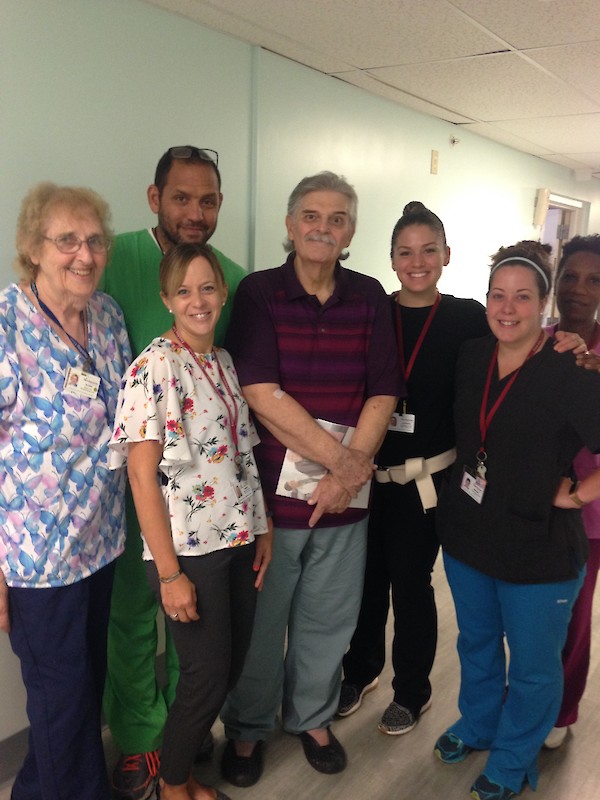 MANCHESTER (August 20, 2018) – In early August, resident Robert L was discharged home from Touchpoints at Manchester having been a patient on Touchpoints' signature congestive heart failure rehabilitation program in collaboration with Saint Francis Hospital. 
Touchpoints' CHF program entails a tailored approach to care including care management and clinical following by iCare Health Network's Care Transitions Nursing and Respiratory Therapy team as well as Saint Francis Hospital heart failure specialists. Medication regimen, diet, targeted therapies, body weight and lab results are closely tracked, balanced and monitored to ensure successful rehab, shorten the length of stay and decrease the likelihood of hospital readmission. 
He had these kind words to say abou the program as well as some words of encouragement for future Touchpoints residents. 
I was greeted by the staff as if I was a genuinely a concern to them, and my welfare was a priority. As time and treatment began I received exercise that was not forced, but tailored to my ability at the time.

I made progress at a rate I felt comfortable with but seemed to far exceed my expectations and that of your staff.

Your staff can only be described as what I will call my "Angels" even if I am not "Charlie".

I hope I made some positive impressions upon them and I know from my standpoint I am proud to call them "friend". I will miss each and every one of you, but will keep you in my prayers and heart  forever.
Words left by Robert for future Touchpoints patients:
Life is not a given, it is what you make of it. Defeat is an attitude you cannot achieve or have forced upon you, without your consent. These are but a few words I try to live by daily.

May they serve as an incentive to you as well, when you are here at Touchpoints Rehab. As a patient,      remember you control the outcome of your rehab and life. A positive attitude leads to a positive life. Let your faith in yourself waiver, but believe and the rewards can be manifested in many ways. 

Wishing you a speedy recovery.   -RL