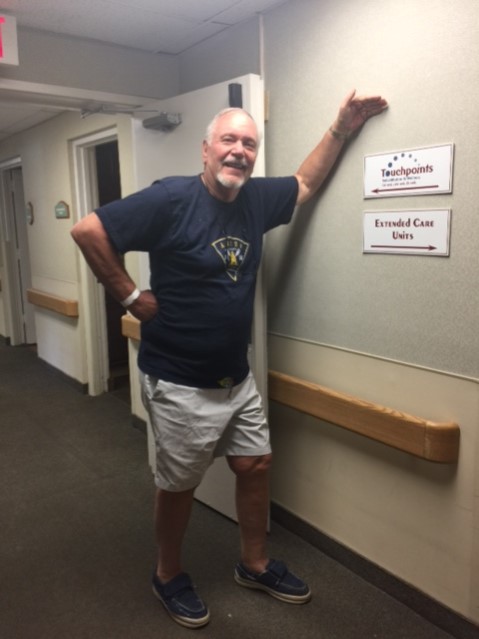 MANCHESTER – (October 12, 2017): Patient George F. provided a testimonial on his stay at Touchpoints at Manchester after a total hip replacement. He received Touchpoints' signature Beyond the Joint program, including Prehab and Rehab with physical therapy and clearly experienced the benefits of the program, saying, "I just wish to say, my rehab stay at Touchpoints at Manchester exceeded my expectations!"
I did not know what to expect since I have never required inpatient rehabilitation before. When Dr. Dua explained to me that I would benefit from a total hip replacement I wanted to make sure I planned for the best possible results.

I heard about Kim and the Prehab program at Touchpoints at Manchester. We spoke on the phone several times, she even sent me information about what to expect if I did go to Touchpoints for rehab and also a check list of what to pack.

I decided to go see Kim for a Prehab assessment. I am so glad I did. I could barely walk when I arrived for my prehab visit. After my visit with Kim, I was standing upright, able to take good strong steps and strides. And NO PAIN!!! I came back for 2 more visits and each time felt better and better.

During my hospital stay I did so much better than I had expected to do. I feel it was because of my Prehab treatments. I was lucky to be able to go to Touchpoints directly from the hospital. The care from the entire staff was excellent.

I had a nice private room. My private room also had a power lift recliner! It gave me the opportunity to relax and rest.  They made me feel like a king! I really feel the staff truly cares a lot for each and every patient there. I was very pleased with the food. I was having a craving one day and Kim went out and made sure I got exactly what I was craving. Above and beyond!!!

The housekeeping people were very in tune with my requests. Everyone smiles and does their jobs well. The Rehab Department—I love them all. They really got me motivated and taught me how to be independent and safe. I wish happiness to the entire staff.
Patient information appears with express, written permission.