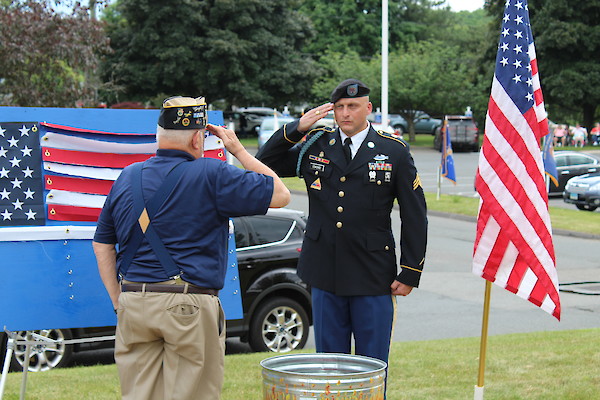 A veterans care program officially opened Friday at a local skilled nursing facility. A ceremony, combined with an American flag retirement, marked the opening of the program at Touchpoints at Manchester. 
by Jesse Leavenworth, HARTFORD COURANT
Part of iCare, Touchpoints on Bidwell Street was awarded a Veterans Affairs contract for short- and long-term care of veterans who use their service-connected benefits, iCare spokesman Dave Skoczulek said. Another iCare facility in Meriden has had a similar contract for several years.
The 20-bed program in Manchester provides post traumatic stress treatment, supportive clinical programming and veterans' benefits coordination, among other services, Skoczulek said. Residents tend to be Vietnam veterans and most are enlisted men and women from all walks of life, he said.
Touchpoints at Manchester is the only VA contract facility in the region, Skoczulek said.
"The closest is in West Hartford and everything else east of the Connecticut River is on the shoreline," he said. "So we are a key access point."
State Veterans Affairs Commissioner Thomas J. Saadi was among several speakers at the ceremony. Citing those who served in the Vietnam War, Saadi said the nation has not always supported veterans as they deserve. He told the small audience gathered under a tent that there must be no more forgotten wars or forgotten veterans.
Veterans and first responders then formally retired an American flag, which had been cut into separate stripes and the field of stars. They deposited the flag, piece by piece, in a metal container to be burned. Read the full article here…