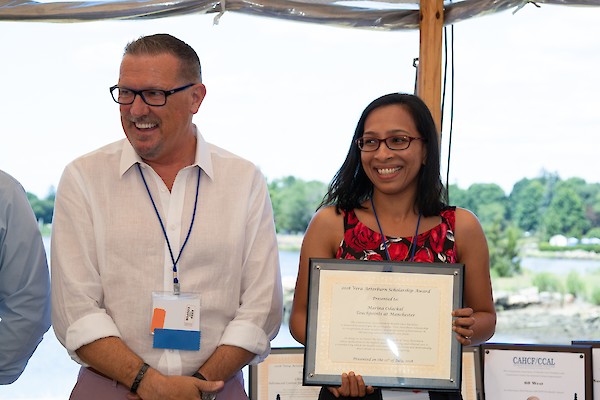 MYSTIC (July 18, 2018) – Employees from multiple iCare Health Network managed communities won awards and scholarships at the Connecticut Association of Health Care Facilities 89th Annual Meeting, held on the north lawn of Mystic Seaport on July 12th. 
iCare Health Network winners include:
Vera Arterburn Memorial Scholarship Awards –
Ms. Marina Odackal, Touchpoint at Manchester – "Marina was born in Dubai and brought up in India. Marina is an exceptional employee.  She is hard-working, puts in many hours, and is a perfectionist.  As we all know, timeliness plays a large part in an MDS coordinator's job – even more so when you are MDS for a sub-acute building with extremely high numbers of admissions and discharges. This is an employee who DESERVES this scholarship.   She has been accepted into an APRN program, and anyone who knows her is well aware that she will be an outstanding APRN." - Tracy Newport, LNHA. 
Ms. Diana Orellana-Bolanos, West Side Care Center – "With this population, it takes a confident, focused individual to care for them.  Diana defines that individual.  Diana is able to show compassion through patience, even when dealing with the most challenging of situations. Diana is described by her colleagues as "kind, attentive, caring, and hard-working."  It is easy to judge the character of an individual when do not hear a single negative remark about them.  As an Administrator, it is refreshing to see young and energetic individuals that are eager to get into nursing.  To hear them further state their desire to remain in long term care is an even better feeling.  I am confident that Diana will make an exceptional nurse and to have her be awarded this scholarship would help that journey for her greatly." - Patrick Neagle, LNHA. 
Ms. Jeanetta Francis, Touchpoints at Bloomfield – Jeanetta is a Licensed Practical Nurse with Touchpoints at Bloomfield since September 2001 and works as a long term care nurse.  She is currently going to school to become a Registered Nurse.
About the Scholarship
According to the CAHCF website, Vera P. Arterburn, one of the founders of the Connecticut Association of Health Care Facilities, Inc (CAHCF), and its predecessor organization, was a pioneer and a leader for over 40 years among geriatric health-care professionals.  Her years of service to CAHCF were characterized by her dedication to nursing education which was of primary focus to her, as both an LPN and as a nursing home owner, in assisting the Association and its Members to promote and improve the delivery of quality patient care to its patients.  Therefore, it seemed appropriate shortly after Vera's death in 1987, for the Association to create the Vera Arterburn Memorial Scholarship Fund, Inc" as a tax-exempt Section 501(c)(3) organization, and to use charitable donations made by CAHCF Members to award nursing educational scholarships to deserving applicants who qualify as employees of CAHCF Member institutions and who wish to advance their long-term-care provider education.
Volunteer of the Year Awards-
Rev. Guillermo Garcia, Trinity Hill Care Center - Read about Rev Garcia here…
AHCA/NCAL Quality Award Overview and Recognition-
Bronze Award:  60 West - Read about 60 West's Bronze Award here…
Congratulations to all the winners!