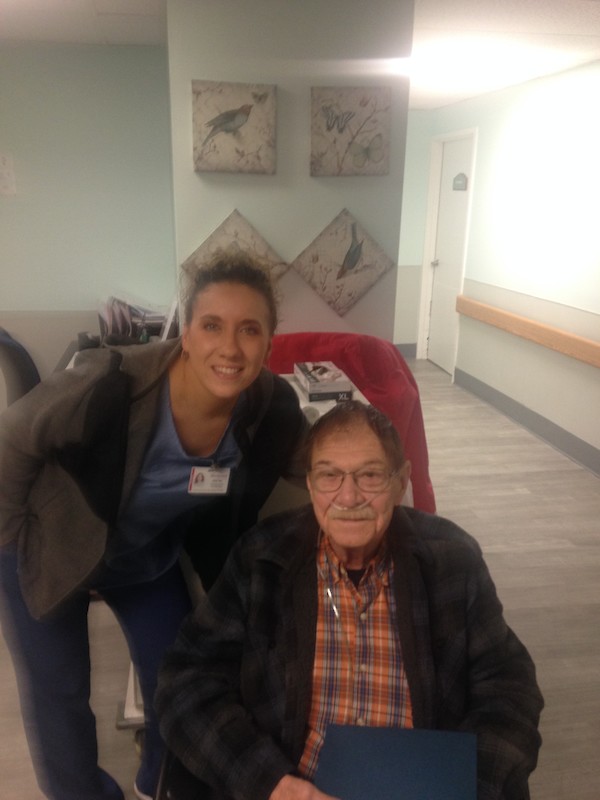 MANCHESTER (March 22, 2018) – Touchpoints at Manchester received this patient outcome and testimonial related to its strong and growing Pulmonary Rehabilitation Program, overseen by Pulmonologists John Rodgers and William Preskenis, Respiratory Therapist Maureen Orlando and the iCare Care Transitions Team.
Patient:                   David S. 
Length of Stay:      Five Days
Diagnosis:              Acute Exacerbation of COPD, Pneumonia
Everyone at Touchpoints at Manchester is wonderful and kind. I had a great rehab stay here. 

I have been in and out of the hospital often over the past few years due to lung cancer and my COPD so I have had a few rehab stays. The staff at Touchpoints just go out of their way to make sure each patient feels cared for and cared about.

When Kim, one of the Care Navigators learned I have two small children, she put together a activity box just for them so when they came to visit they felt special too. Kim checked in with me many times a day, making sure everything was going as needed and more than that, as I really wanted.

Maureen, the Touchpoints Respiratory Therapist, is amazing. In all the years I have been receiving care for my breathing issues, she was the first one who taught me how to breath correctly, with less effort and more benefit.

I wish my stay could have been a little long so I could continue with Maureen but I improved so quickly that my insurance company said I had to go home.

I was excited to be seen by the same Pulmonologist, Dr. Preskenis, that worked with me at Saint Francis Hospital. You can tell the doctors and staff communicate, everyone was up to date about me. The Rehab Therapy team was terrific too. I wish I could thank the entire staff by name.

I am going home with confidence.
**Patient care information and photo used with express written permission.