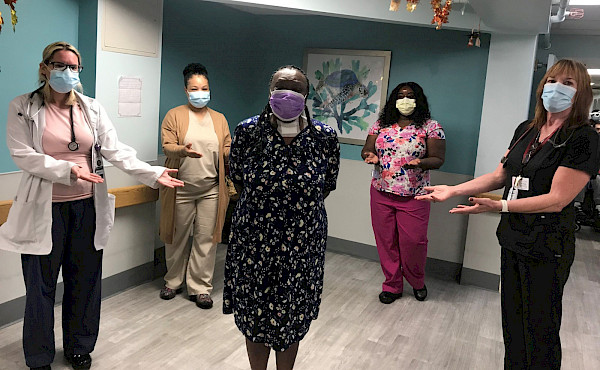 MANCHESTER (February 17, 2021) – In early February 2021, the Touchpoints at Manchester team received Vera's Story, an eloquent testimonial from a grateful resident. It reads:
I do not remember how I got to the hospital but I will never forget my new family I found at Touchpoints at Manchester. God gave me a second chance, his next miracle I was welcomed for rehab by the wonderful staff at Touchpoints at Manchester. 

I could not speak or write to communicate. The staff at Touchpoints took the time to read my lips and understand my gestures. They showed me so much kindness with no judgment. They took care of me. My fears began to fade. 24/7 nothing was too big or too small. Each and every one of them gave me their utmost attention and respect.

This experience has been so challenging but I now know because of the remarkable, unconditional love my Touchpoints family has showed me God has a mission for me. I have a spirit I never knew I had. 

If the Touchpoints at Manchester staff can help me recover and thrive, they can help everyone. With my deepest gratitude and love. 

- Vera C. (February 2021)
*Details, pictures and accounts are posted with express written permission of the resident. The above testimonial was edited for length and clarity.
**Proper PPE, social distancing and infection control precautions were maintained throughout the resident's stay.